Our New Website: www.panelbed.com
HOME PAGE : FLORIDA'S BEST MURPHYBED SUPERSTORE www.murphybed-zzz.com
SPECIAL IN WHITE MELAMINE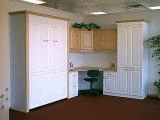 See our murphybeds, wallbeds, home offices and our computer desk featured in the Nationally Acclaimed (CWB) Custom Woodworking Business Magazine, in the August 2000 issue starting on page 40 or click below, to directly link to the featured article.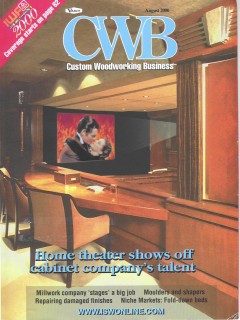 CWB Magazine article
WELCOME... We are glad that you found our website. Here you will find these fine products: Panelbeds, Murphybeds, Wallbeds, hide-a-beds, Home Offices, Closet systems and much more. We are located in Orlando, Florida and the weather is always beautiful here. As you go through and visit with us, you'll notice many ideas & concepts that will give you inspiration on murphybeds, wallbeds, home offices, and give you the tools you need to make decisions.
The icon of our business is our own version of the Murphybed or wallbed concept, and that is (THE PANELBED). We have created our own great design. You can not find our Panelbed any place else. As you see the animated image above, The Panelbed is a piece of fine furniture.
Architectural Murphybed is "THE" manufacturer, when it comes to building cabinetry. Many other places that you will go to will buy their cabinetry from someone else, but not with us. We have the "state-of-the-Art" advanced machinery for cutting, edging, and precisely boring & routing with computerized machinery.
We have much to tell you about our panelbed, murphybed, wallbed, home office, computer desk and closet systems and why you want our products. We hope that you will find our website user friendly.
Click on the buttons above, to see all the different things we want to show you. Thank You, for visiting us here.